OTL is dedicated to providing a Members Only lifestyle brand to serious athletes; athletes who have demonstrated their commitment to pursuing excellence in their sport, at the college or professional level, and improving the communities where they live.
On The Line recognizes and honors the athlete's will power, competitive nature, creativity, and love for the game. Achieving excellence in sports requires intellect, physical prowess, courage, perseverance and mental toughness. It also requires a huge commitment of personal time.
An athlete knows how it feels to lay it all on the line.
On The Line is more than a lifestyle brand for elite athletes. It is a community; a place where athletes can relate to each other. It's a place that promotes the value of pursuing something larger than our own self-interests.
Our red kite symbolizes the reality that even when things seem out of reach, you are always in control of your own destiny.
In addition to their personal sacrifices of blood, sweat and tears in pursuit of athletic excellence, most elite athletes have a quieter, but powerful, determination to improve their communities and help others.
On The Line Club intends to nourish and promote those values. It is our hope that one day, whenever someone sees our red kite logo -- they'll know they're looking at an elite athlete dedicated to spreading love and improving communities through sports.
Athletes have a unique voice and the ability to bring about meaningful change in the world. Here at On The Line we are committed to doing our share. We will be contributing a portion of any profit to Up2Us, a non-profit organization dedicated to sports-based youth development programs in America's inner-cities. Learn more at Up2Us.
It is amazing what can be achieved when a group of talented people decide to work together. Please join us.
Our vision is to build an exclusive and elite lifestyle brand for like-minded people. Wearing athletic clothes does not make someone an athlete, the athletes makes the clothing athletic.
Imagine a world where every time someone sees our red kite logo, they know that they are looking at an elite athlete who is passionate about creating better communities and spreading love around the world. Instead of athletes all creating their own individual brands that anyone can buy. Athletes have a unique voice, and if we put all of our voices together we could truly make a difference.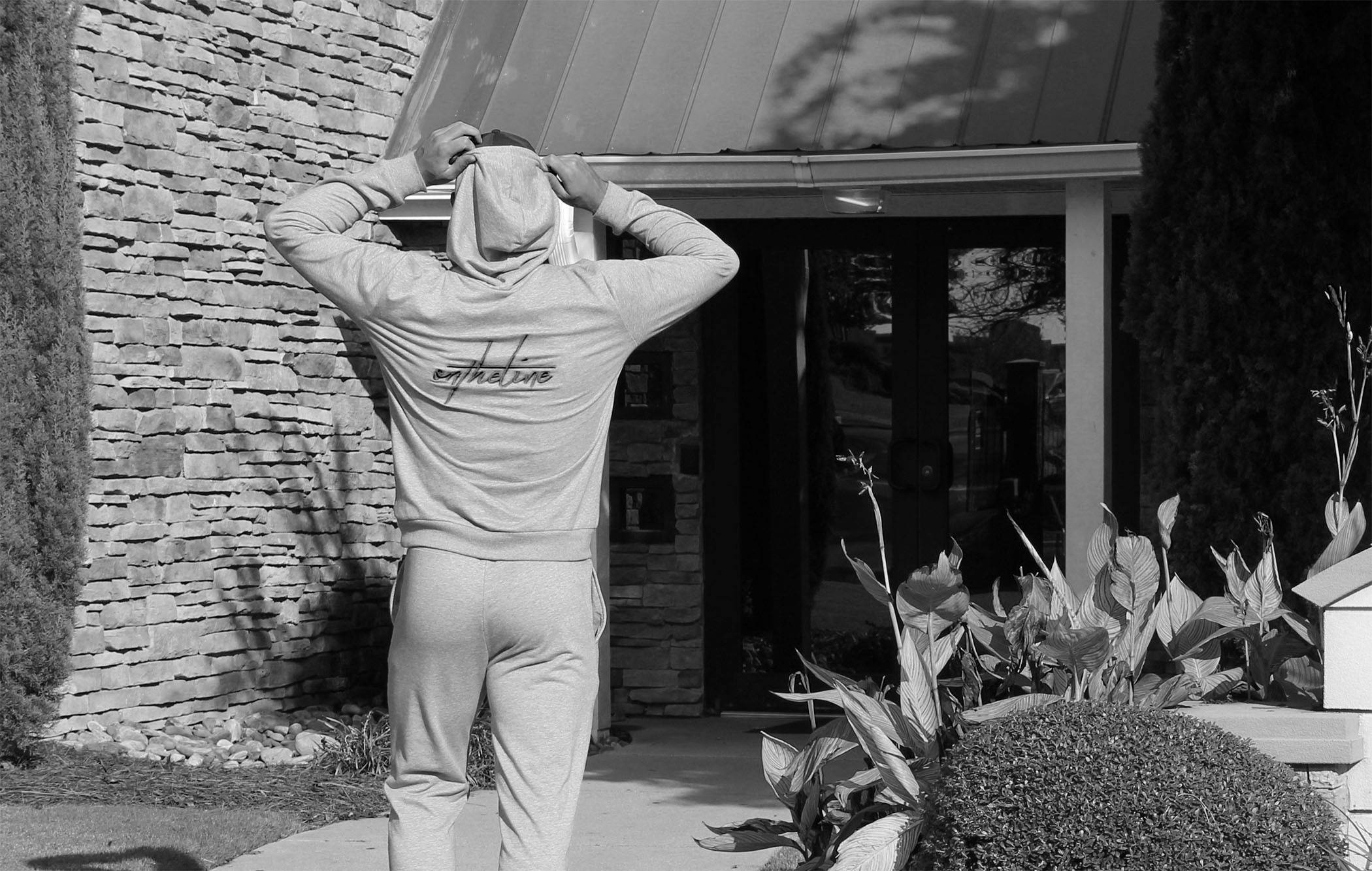 Being an athlete is not ordinary, it is extraordinary. We are driven to produce products that remind our members of how extraordinary they are.
Athletes are wired differently -- we are as competitive as we are creative. At OTL, we are committed to combining that energy to create the most sustainable products for our athletes.
Athletes that play with heart never settle -- from technical fabrics to innovative designs, we are constantly seeking ways to improve our game. We are a brand in progress and we will continue to evolve as we are inspired by our incredibly talented customer base.
On The Line's two signature product categories include Chillin' Clothes and Performance Wear.
HIGH PERFORMANCE WEAR
We create sleek performance wear that integrates technical fabric and swaggy designs.
Our clothes are designed to make a subtle statement. We are currently working with manufacturers all over the world to find the best innovations and technologies in textile manufacturing. We are constantly designing new products and hope to add innovative pieces to our collection every month. Our high performance products are designed with purpose to remind athletes of their worth and inspire the next generation to dream big.
Chillin' from the Streets to Meets
Our chillin' clothes feature high quality tracksuits. By combining high quality fabrics with our signature subtle swag we have crafted a the best chillin' gear out there. Our luxuriously soft, sweat-wicking, breathable fabric blends will allow you to maximize your chillin' experience. Monday will no longer ruin your Sunday, our custom designs are the perfect outfit for coping with Sunday Scaries. This line will keep you feeling calm, cool, and collected through all of life's hardest moments.